About The Morris Music Men
The Morris Music Men are a group of men of all ages and all walks of life, with or without formal music training, who share one thing in common: an irresistible urge to sing!
You Can Sing, Too
You like to sing in the shower, you like to sing in the car. You've sung in a school chorus, a community theatre musical or your church choir. And now you can turn your love of singing into a great hobby. You don't even have to be able to read music; we'll teach you everything you need to know. To learn how to get in on the fun, please check out our Join Us section.
Showtime!
The Morris Music Men love nothing better than performing our music. Our premiere event is our annual show, where we and our local and guest quartets strut our stuff. During the year we do shows at retirement and assisted living communities, libraries, civic events and private affairs, and do the occasional fundraiser for a church or charity. Like us to entertain at your event? Check out our Hire Us section.
And then there's February, when tuxedo-clad MMM quartets deliver Singing Valentines to lovers young and old throughout our area!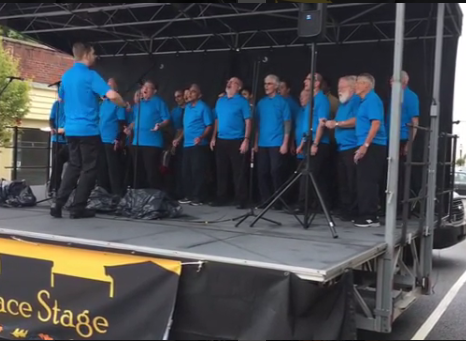 CompetitionIn the spring of every year, The Morris Music Men participate in a chorus competition hosted by the Barbershop Harmony Society's Mid-Atlantic District. Competitions are a special time for quartets and choruses to come together to sing for each other, and get some constructive feedback from a panel of judges.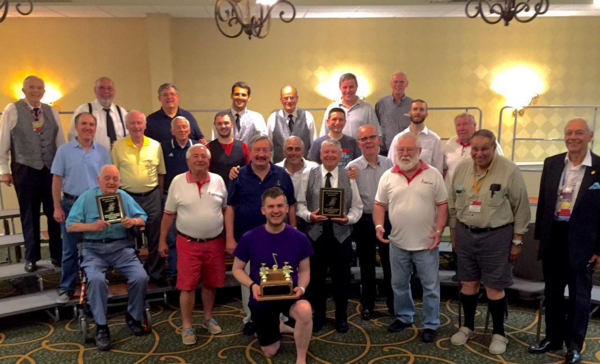 Here we are winning the Plateau A Championship and the Most Improved Chorus Award at the Northern Division Contest in June 2016.


Quartets
Most barbershop choruses have a number of members who form their own quartets in addition to singing with the chorus. The Morris Music Men currently are home to two such quartets, The Four Old Parts, and Napoleon and the Bonaparts and others are in the works. To learn more about them visit our Quartets section.
More Than A HobbyIt's the singing that brings us together. But it's the fun and camaraderie that sweetens the pot. The friendships forged through barbershop harmony bridge gaps in ways that no other hobby is capable of doing. That's why for many devotees, barbershop is far more than a hobby; it's a passion.